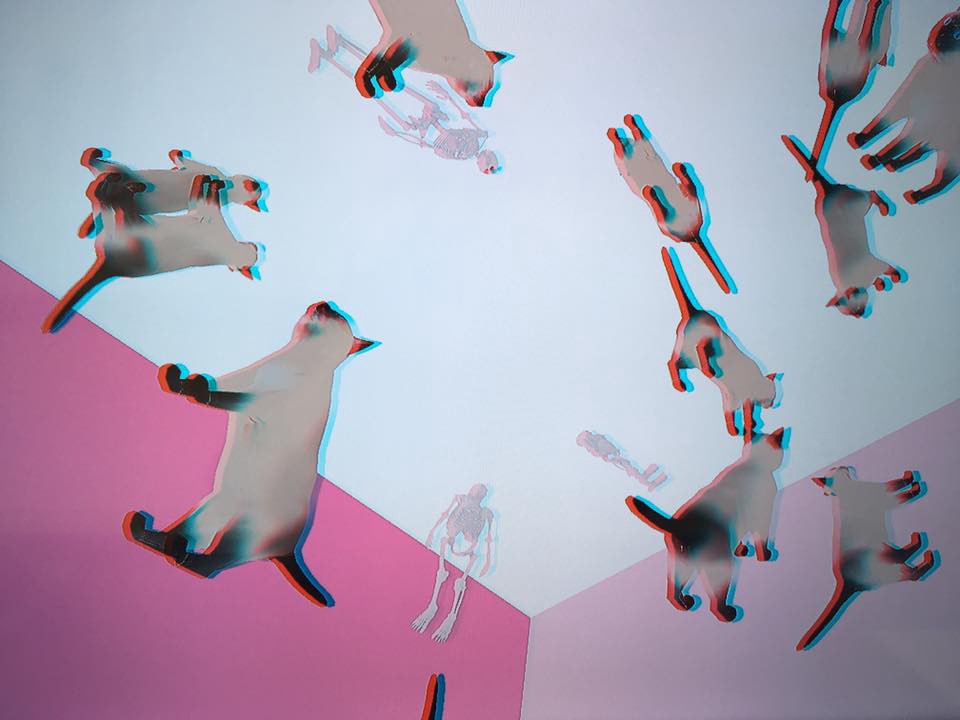 As the final day of Now Play This was winding down, a really lovely Sunday afternoon that capped off a beautiful weekend, I managed to catch up with George Buckenham, the digital curator of the event, for few minutes. We asked each other how it was going and could only muster responses of a dazed "good!" or "yeah!" Then we went and sat on a giant vibrating model of a beehive.
At that point I knew it would take me at least a few days to process what the organizers of Now Play This had accomplished. Of course, the exhibition lent itself well to being visited once, and you'd probably serendipitously run into one of the great talks, showcases or facilitated games that run alongside the exhibition. Visiting on all three days, like I did, was wonderful but also exhausting. Now Play This is committed to presenting a huge swathe of what is playful and playable, so I was just as likely to run around in the fountain, search for AR puzzles hidden throughout the venue, try prototypes of new card games, collaboratively nudge, tilt and touch bots, as I was to be standing still playing a game or taking in a talk. It was beautiful and uplifting but also overwhelming and just tiring. After the exhibition closed on Sunday night I had to very uncharacteristically turn down a pub invitation. My feet were screaming.
This year felt even bigger than the already impressive iteration from last year. The main exhibition, again made up of a collection of thematically-curated rooms, was full of projects I knew about and was excited to see alongside many new surprises, some debuting or commissioned specially for the event. On top of this there was also the more historically-oriented exhibition Game Changers, which looked at the history and variety within three archetypes of gaming, Billiards, Chess, and Mazes. And don't forget the live games and new sports commissioned by the festival, which could have you sharing secrets in a dark room or wielding brooms or golf putters outdoors.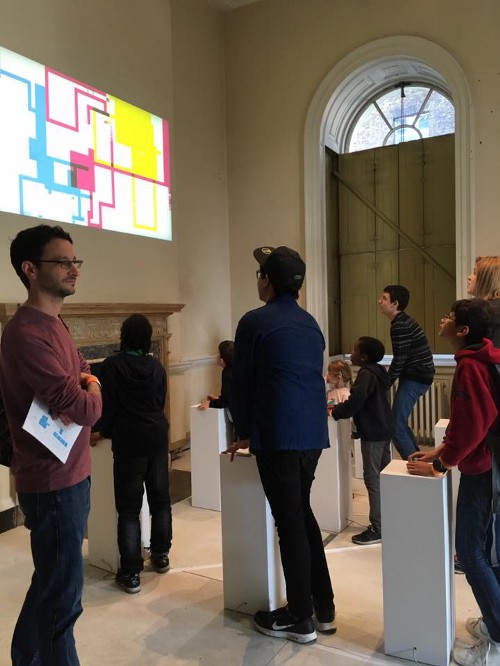 Despite the expansion from last year, Now Play This kept a devoted library room, which was one of my favorite places last year. Last year, it presented a collection of Twine games alongside books and zines that were addressing a wide variety of play-related practices. This year the books remained but instead of Twine games, the games that shared the space were what would generally be considered non-interactives, an interesting choice many festivals and exhibitions about play seem afraid to make. Documentation of a no longer existing Waiting for Godot game, proposals for playgrounds, and games that only exist as descriptions or hypothetical rule-sets defined this room. It was also where I got to play a round of the simultaneously conceptual and performative Poem Game, facilitated by the woman who invented it in 1970 herself, Liliane Lijin. Poem Game is played with a deck of colorful cards that have a word on each side, "chaotically" selected, according to the artist. Players simply play and rearrange the words on their turn, then perform their altered version of the poem.
Titles like the collaborative pixel-platformer Pico Park and the tactile 10-second game Sandcastles drew in those who come to a games exhibition expecting something similar to what they may be familiar with in their Steam libraries or tablet devices. However, even the most familiar seeming games transform, Sandcastles becoming rhythmic and meditative alongside other more frantically-paced games, and Pico Park pulled together unlikely groups to face its challenging puzzles. In both its selections and how it's organized, Now Play This made a strong positive argument for the necessity and value of games exhibitions. Of course there were grandiose and complex installation works like The Haunted Room, which houses Viviane Schwarz's Restless Spirit Projector. But even before the festival opened the organizers were honest about many of the games already being available, many for free, online.
This may seem like giving away the appeal of attending. Past large game exhibitions focused on highlighting their sheer number of featured games, across many platforms and occasionally including rarities, banking on the unlikeliness that anyone would have access to ALL of these games regularly as their selling point. Now we seem to be in an era of game overabundance. How do you make a game exhibition appealing in light of Steam sales, accessible emulation, and many developers giving their games away for free online? After all, I already have way too many games to play at home.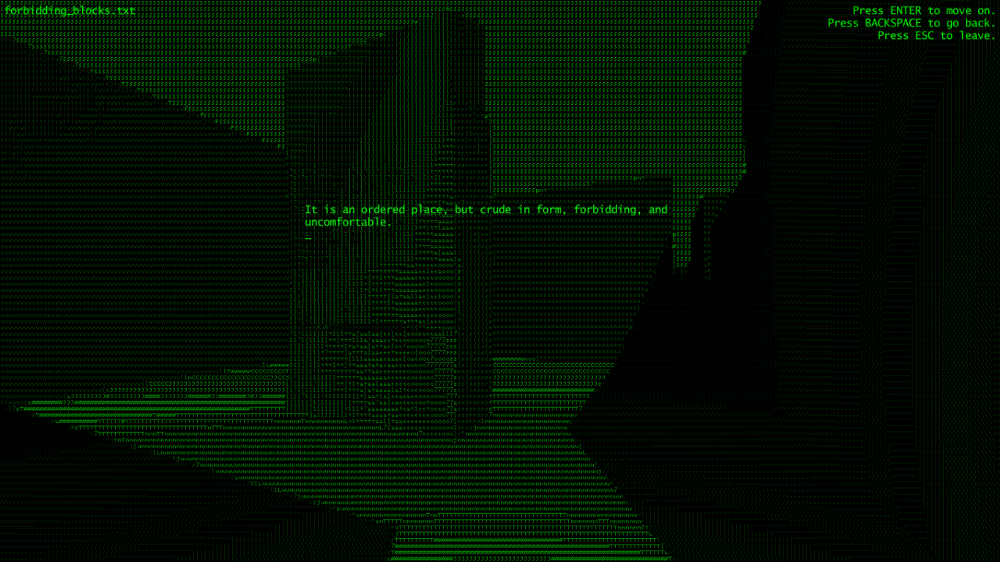 In the Game Changers exhibition, Ian MacLarty's Catacombs of Solaris was presented in the maze room, alongside a selection of pocket sized ball mazes and a supersized one that required two people working together to solve. This display nudges visitors from the familiar, perhaps a nostalgic toy they may have owned and the novelty of an oversize version, to the more alien and experimental. Catacombs of Solaris is less about navigating to a goal and more about learning the rules of a space, and the goal of navigation becomes aesthetic satisfaction. As one young player said while I observed visitors in the gallery, "You have to find your way through the passages but it's tricky because they're all made of art."
These nudges happen throughout both of the exhibitions, providing accessible points of entry that gesture to uninvestigated aesthetics or overlooked moments in the genealogy of games and play. Aïda Gómez's Joy is Here, a room-sized word search, and the aforementioned Poem Game as well as The Judgement of Paris connect games to the art historical moments of performance art, fluxus, street art and the new games movement, adding complexity to a history that's often only told in console generations with possible allowances for some board and card games. This contextualization is, in itself, valuable. It's what the outcome of good curation should be (rather than merely sorting games by FPS or visual style) and it's not only something playing games on your own computer at home can't offer, but in fact something that the current atmosphere of glut requires.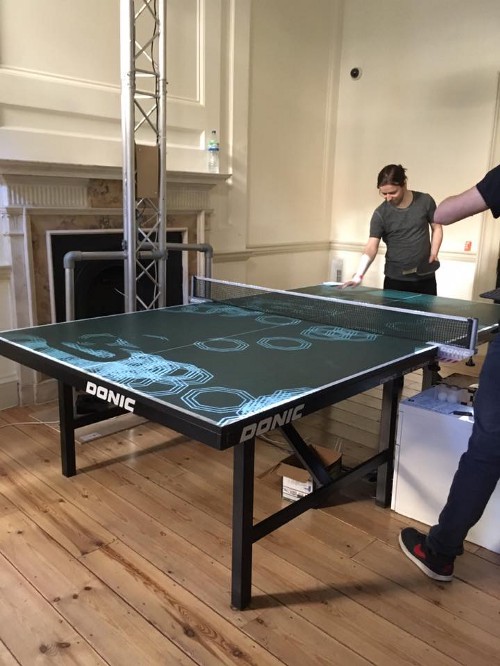 The games on display were physical, digital, and blends of the two, best demonstrated in The Light Room which had a responsive Ping Pong table and a pegboard and spool of yarn that could be transformed into a racing game. They were personal and autobiographical, imaginative, pushing the boundaries of digital aesthetics in many cases (Constellation is back-to-back with The Whole World, both unconventional manipulations of seemingly generic 3D models), but also not afraid to be explicitly political, as in the case of Yara El-Sherbini's Operation game refitted to depict removing pieces of the UK from the European Union. The new sports debuted in the courtyard and digital games like Pico Park gave the rush of competition or group achievement, while many other works, (like Phoenix Perry's Bot Party, which I had to play with every time I walked past it) instead encouraged experimentation, creativity, or just absent fiddling. Now Play This presented a broad and vibrant picture of the state of games and play, and one that drew freely from many historical sources. But one thing I think it wisely avoided, something that is often harmfully conflated with game exhibitions or games in the museum, the game meant to educate.
"Games for change," broadly, from citizen science games that use players as sources of data to games attempting to express a specific political situation and generate a call to action, were notably absent. Yet at the same time, Now Play This felt far from politically naive. The centering of such games, even within art spaces, shows a lack of faith in the value of play, (aesthetic, social, competitive, creative, narrative, imaginative, and so on), and instead argues that it must be justified through the narrow lens of particular demonstrable outcomes. It's a risky move in the current results-obsessed climate, but a necessary one, to demonstrate the so-called "soft power" of play for play's sake. The games featured in Now Play This not only managed to be as politically incisive and curious about the world, but also allowed for transformation and unexpected outcomes, playing off of each other and the broad audience they attracted.